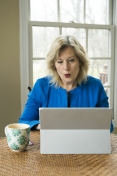 Edie Sue Sutker, LCSW, Assistant Director, Adult & Family Services
As a social worker during a pandemic, I am going through the same experience as my clients, at the same time.  I have been wrestling with how I can help my clients and clinicians when I am struggling.
I help myself cope by exercising throughout the day. I also learned how to help myself when waves of grief come over me. I allow these waves to come and try to be kind to myself when that happens. I stay connected to my friends and family and reach out to those who would be helpful.
Whether it is exercise, meditation, cooking or something else, it is important to practice whatever helps you regulate your own emotions. 
I had to reinvent my work when the pandemic forced our agency to move from meeting in person with clients to conducting sessions over the telephone or video. I found I use much more energy when doing a video session with a client or a supervision with a clinician than I did before the pandemic. It requires more concentration to look the client or clinician in the eye through a screen and not get distracted by my feelings or by something around me.  Because I am in the client's or clinician's space and they are in mine, this is different than me providing a safe space in my office.  I use the space they select as a way to understand them better.  I think about why they picked that space, and what they wanted me to see or understand based on that choice.  
I have also learned during my telehealth work that my attitude toward telehealth is very important.  I realized that I needed to embrace it, see it as worthwhile, figure out the positives and how to be creative — and not think of it as a lesser experience.  Once I did this, the treatment with my clients changed and so did my supervisions.  We always need to be aware of our own attitudes in order to provide effective treatment.
I use myself as an example more than ever.  My clients, clinicians and I are fighting the same fight, which is how to cope during this unprecedented time.  While "not knowing" has always been part of being a social worker, my clients, clinicians and I have to accept "not knowing" and uncertainty.  My work with clients and clinicians has focused on how they handle uncertainty. I am aware that my clients, clinicians and I are climbing the same mountain, and I am transparent about this.
I encourage my clients and clinicians to reflect on what is important to them.  What are they learning about themselves during this experience?  Can they allow themselves to grieve, and what are they grieving? What feelings are they experiencing during this trauma?  What can they be grateful for during this time? How can they improve the bond with their family members in their home?  Can they learn how to handle conflict with the people they are living with?
I am keenly aware that everyone needs to handle this situation with their own comfort and tolerance in mind.  We can't judge others for the way they are handling this pandemic or any uncertainty.  I have seen the slogan, "It is okay not to be okay." It is also okay to be okay at other times.