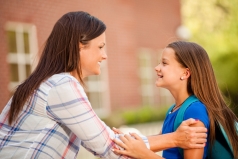 by Tami Sollo, LCSW, Coordinator, Divorce Specialty Center at JCFS Chicago
As we move from the lazy, relaxed days of summer into the hectic days of early fall and back to school, I am reminded that these kinds of transitions can be difficult for any family. When your family is divorced, or going through the process, the challenges can seem insurmountable. Here are some tips to make this year's transition go more smoothly:
Now is the Time to Ramp Up Your Co-parenting Skills
 It is always important to try and work with each other for the common good of your children. Coordinating the many aspects of your child's education is easier, and you can be more successful, if you have the support of your child's other parent. As the Coordinator of JCFS Chicago's Divorce Specialty Center, I am well aware that this is often easier said than done. It's helpful to invest in a co-parenting app like Talking Parents, which can help to make the communications easier between co-parents. If you are unable to do this on your own, get help! We offer programs to assist you and your co-parent to find better ways of communicating about your children's needs.
Back to school also brings many school related expenses. Even though your divorce outlines how these expenses will be handled, the easier you can discuss and problem solve with your co-parent, the more likely the transition can go smoothly.
Take Better Care of Yourself
For families that are still going through the process, there are so many things to focus on, and homework and class schedules can feel like the straw that broke the camel's back! It is essential during these chaotic times that you remember to take care of yourself so you can take care of everyone and everything else. Take a few minutes out of your day to take a walk and enjoy the amazing fall weather. Read a book that isn't about divorce. Take a bubble bath, or practice mindfulness. Even just a few minutes a day is enough to recharge, so that you can continue to juggle all the things on your plate.
Nurture Alternative Sources of Support
If you and your co-parent would rather be stranded alone on a desert island than sitting in the same room together, there may be others that can help ease the stress. Some people are lucky to have family members that can pitch in. You can also connect with other parents at the school who are interested in carpooling, or sharing after school times. The more help you have available, the better chance you have to reduce the stress!
Let your child's teachers know what is going on in the family, so they will also be able to provide support or offer suggestions on ways to make school more manageable for your children during this difficult time.
Remember that you are not alone. The Divorce Specialty Center is here to help every member of the family before, during or after divorce. If you have questions about our services or anything related to your divorce, please contact me at tamisollo@jcfs.org or 847.412.4347.