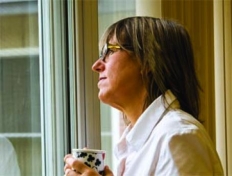 It's been almost a month. Your child or loved one has been off at  college, making new friends, acclimating themselves to the campus and hitting the books hard (hopefully). Maybe they've already found a job and moved out.
But you, as their parent or guardian, may have noticed something different in the last four weeks. Something is off. Suddenly, you realize that the loud music that once shook your house has been replaced with silence. The laundry seems lighter. There's one less person to talk to at the dinner table about their day.You may be living in an empty nest.
"Empty nest syndrome is not a mental health diagnosis, but a phenomenon where parents or guardians find themselves without a child home to care for," said Lili Gray, LCSW, Director of Adult, Child and Family Services, Northwest Suburban Community Counseling Center at Jewish Child & Family Services (JCFS). "They struggle with their identity changes as they no longer can define themselves as primary caregiver of a child."
"Many adults experience this as a loss," she said. "This loss is not just experienced as missing the child who may have gone off to college or moved out and become appropriately independent, but a loss of role identity."
Be prepared
Parents should recognize that Empty nest syndrome will happen and life at home, and in general, will be different. "There's no way to prevent empty nest syndrome, but there are ways to prepare for it," said Marilyn Siegel, LCSW, Director of JCFS' Adult and Family Services, Chicago Community Counseling Center.
Focus on yourself or your marriage.
This is a time is for pursuing your own interests and hobbies. For some, this may be the first time in 18 years that you have some quality "me" time. Start-up that after-work softball league. Paint those walls you've been meaning to get to since the 90s. Take-up bird calling. Immerse yourself in things that make you enjoy and make you happy. Do things that you've always wanted to do but couldn't while caring for a child. This is also an important role modeling for your young adult child.
For married couples, think about what you might like to do together. Perhaps your lives have primarily revolved around kids. Reconnect as a couple. Have couple time. Plan activities together on a regular basis. Have a date night. Make sure there's reconnecting outside of issues around kids.
Stay connected, but don't be intrusive
"Too often, parents can't let go of the fledging child -- calling or texting multiple times a day -- which can be a strain on the relationship," Gray said." "It also sends a mixed message to the adult child; 'I want you to be successful and independent, but don't leave me behind…'" Try to put some boundaries around contact. There's no need to Skype after every meal! Talk about communication with them so everybody's expectations are on the same terms. It might be different the first few days and then gradually decreased. "Different kids need different amounts of contact and different amounts of space," Siegel said.
Refocus
Focus on your own interests and seek out new growth opportunities in your life so you can be excited about what is next for you. Don't just focus on the loss of the child in the home.
"You're still a parent or guardian; it just means the role is different," Siegel said.
And, don't be afraid to ask for help, from friends and family, or perhaps even a professional to help sort out your feelings. Call 855.ASK.JCFS (855.275.5237)