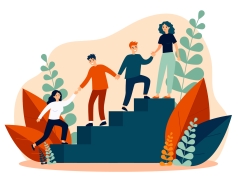 Improved advocacy is a clear goal of JCFS Chicago's current three-year strategic plan. As an agency, we participate in several joint advocacy efforts including the Network of Jewish Human Service Agencies advocacy committee, Illinois Coalition on Youth, and others. Our staff work to leverage relationships at all levels of government to influence the decisions that ultimately impact the work we do.
As one recent example of our efforts, Chief Executive Officer Stacey Shor, board member Linda Kellough and HIAS Immigration & Citizenship director Jessica Schaffer joined six other Jewish communal agencies to present our advocacy priorities to city, state and federal legislators. The following topics were addressed: access to Covid vaccines, post-Covid access to telehealth, improved IM+CANS (a comprehensive tool for assessing the needs and strengths of individuals who require mental health treatment in Illinois) process, improved funding for services for people with intellectual/developmental disabilities, support of raising refugee resettlement limits (JCFS was poised to welcome refugees when the doors were effectively closed several years ago). We are in support of President Biden's plan to increase limits through Fiscal Year 2022.
In addition, Jessica Schaffer leads the Chicago Jewish Coalition for Refugees, which convenes synagogues and other Jewish institutions and groups to act in support of refugees and asylum seekers by engaging dialogue about issues impacting refugees and asylum seekers; connecting to volunteer opportunities to support refugees and asylum seekers locally, and advocating for policies that protect refugees and asylum seekers.
"Our ability to advocate effectively for our programs, for our clients and our community will require us to focus and prioritize. I look forward to future opportunities for action, both broad and targeted," says Stacey Shor.