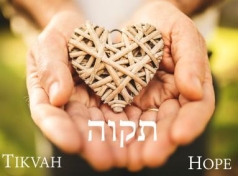 Thanksgiving is supposed to be a time of happiness, warmth, and feeling close to family. But what if you or a loved one, are feeling depressed, isolated and alone? What if you are experiencing grief, a serious disability or terminal illness, and not feeling thankful? Thanksgiving or any holiday can be a reminder of all that is missing in our lives. Tikvah Professional Jewish Chaplains (Rabbis and Cantors with chaplaincy training) are here for you. Spiritual reflection can help you find meaning in suffering. Even if we cannot control the cause, a positive spiritual and emotional response may help us advance our healing and recovery. Tikvah Chaplains offer welcoming, compassionate, easily accessible, spiritual support for Jewish individuals and families, of all ages.
Here are some ways our Tikvah Chaplains can offer you hope, strength, healing and joy in your life:
Compassionate and empathic listening
A caring presence
Explore fundamental questions such as "Why would God allow this suffering?"
Jewish prayer and songs
Assure you of God's presence and love
Deepen your connection to Judaism and the Jewish community
Tikvah Jewish Chaplaincy Initiative is a part of the Jewish Healing Network of Jewish Child & Family Services. The Jewish Healing Network provides programming and support for people dealing with illness and loss. Our professional Jewish Chaplains serve the Chicago Jewish community and can visit you in a home, hospital, hospice, treatment center or other facility, if you are impacted by depression, illness, loss, crisis or other life challenges. We are here for you.
One of our Tikvah Chaplains recently reported:
I visited a Holocaust survivor in an Assisted Living facility on Chicago's North Side. He seemed lonely and distraught, as he considered his aging and decline. I asked him, "Is there anything on this Thanksgiving for which you are thankful?" He paused for a moment or two and then said, "My family and my life. I never knew if I would even have either one when I was in the camps. While I know they cannot be here all the time, I am grateful they come and take care of me when I need them. And I am just grateful to be alive in this country." His mood changed as he was able to offer these words to me knowing that I would accept whatever he would say. And he grew calmer and less anxious as he found ways to express gratitude.
Tikvah also provides support for professionals in hospitals, hospices, senior facilities by offering learning opportunities, Shabbat and holiday programming.
Contact Elana Boiskin, Tikvah Jewish Chaplaincy Coordinator at 847.745.5405 to request a chaplain visit for yourself, or on behalf of someone else, or just for more information.