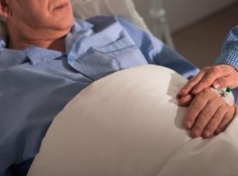 by Amy Schwartz, Coordinator, Tikvah: The Jewish Chaplaincy Community Initiative, Jewish Healing Network of Chicago
As the new Coordinator of Tikvah: The Jewish Chaplaincy Community Initiative, I am delighted to join JCFS's Community Services family and the Jewish Healing Network team.  When I first learned about Tikvah I knew I wanted to be part of its important mission.
A new community resource for spiritual care and caregiving, Tikvah is an exciting initiative that provides professional, board-certified Jewish chaplains to serve the emotional and spiritual needs of the Chicago Jewish community.  Our chaplains offer support for Jewish individuals and families struggling with illness, end-of-life, addiction and loneliness.  
At the heart of Tikvah's mission is a non-judgmental, holistic and compassionate approach to cultivating a continuum of care. One of Tikvah's strongest benefits is its impact on spiritual care by enhancing the connections between individuals, families, friends, congregations and the community.
Originally from Boston, I have adopted Chicago as my home since I began college here. I have a long professional history in the worlds of adolescent, graduate and adult education as well as Jewish advocacy and outreach.  I am the oldest granddaughter of early Zionist Israelis, and I was raised to understand the importance of my identity and giving back to the Jewish community.  My most recent experience working at the Anti-Defamation League (as an assistant regional director) enabled me to deepen my commitment to serving the needs of the Jewish community.
Thanks to the support from the JF/JUF Breakthrough Fund and the JF/JUF Fund for Innovation in Health (funded by the Michael Reese Health Trust), Tikvah is poised to officially launch as a pilot initiative in the targeted areas of Chicago north. We have been busy building community networks in Lakeview and Rogers Park through outreach efforts as well as developing an easily accessible delivery system.  
As a portal to Jewish resources and a conduit to other JCFS programs and services, Tikvah will create numerous opportunities to strengthen the roots of our Jewish community. Tikvah is here to support our community in new, innovative ways and we look forward to serving your needs.  
If you would like more information, or know someone who could benefit from one of our Chaplains, please don't hesitate to contact Amy Schwartz or 847.745.5456