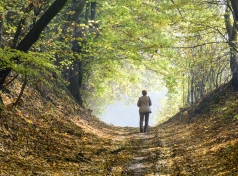 Navigating the Wilderness of Loss: Reframing The Spiritual Journey of Grief
By Elizabeth Siegel Cohen, LCSW, FT, Manager of the Jewish Healing Network
Serious illness and loss often force us to confront big questions such as "Why did this illness happen to me?" or "Why did my loved one have to die so suddenly?" These questions can threaten our spiritual beliefs about ourselves and our world. The Jewish Healing Network and The Lauri S. Bauer Foundation For Sudden Loss' annual Help, Healing and Hope Conference will feature Rabbi Anne Brener, LCSW, presenting "Navigating The Wilderness Of Loss: Reframing The Spiritual Journey of Grief." Using text, meditation and expressive healing techniques, Rabbi Brener will provide insights into those big questions.
As a spiritual leader, psychotherapist and author, Rabbi Brener helps individuals facing serious illness and loss. In addition, she supports faith leaders in establishing healing communities across the world. The 25th anniversary edition of Rabbi Brener's   pivotal book "Mourning and Mitzvah: a Guided Journal for Walking the Mourner's Path Through Grief to Healing," crystalizes her thoughts on what brings comfort to those in spiritual pain: "I build upon the affirmation given to mourners on the Temple's path, expressing hope that they will find Ha Makom Y'nechem, the place of comfort."
Using the Sukkah (a temporary dwelling place) as her framework, she offers five Mekamot (holy places) to stop along the way where mourners can stop in their journeys to come to terms with loss. "Mourners move from the chaos of the wilderness of grief to a literal 'coming to terms' with loss as mourners both find their voice and the language to describe their unique experiences of their mourning."
Join us on Tuesday, May 15, 2018 at 7:00 pm at the DoubleTree by Hilton in Skokie as we traverse the landscape of loss to find hope and healing.  This session is free and open to the entire community. 
Questions? Contact Elizabeth Cohen at 847.745.5404
Jewish Healing Network, a program of Jewish Child & Family Services, in collaboration with CJE SeniorLife and the Chicago Board of Rabbis, provides a wide array of programs and services that embrace the comfort of human connection and the spiritual support of Jewish tradition.
The mission of the Lauri S. Bauer Foundation For Sudden Loss is to give HELP, HEALING and HOPE to families that have suffered a sudden loss or crisis.
Brenner, Rabbi Anne, LCSW, Mourning and Mitzvah: A Guided Journal for Walking the Mourner's Path Through Grief to Healing. Jewish Lights Publishing: Nashville, Tennessee, 2017